About Amerline Enterprises Company
Since 1980, Amerline has provided customers with circular connector solutions to power their specific applications. Over the years, we've expanded our product lines and services to meet market demands, while maintaining a commitment to top quality, competitive pricing and world class lead times. These efforts have made us a market leader in the circular connector industry and established a foundation to continue innovating for the future.
Top Quality
Fast Lead Times
Competitive Pricing
A Rich History That Lends Itself to Innovation
The Amerline story begins 40 years ago with powering applications for the military, a highly demanding market we continue to serve. We've combined that experience and expertise with industry knowledge to scale up our efforts and support a broader range of industry applications.
1983
U.S. Army awards AM General a contract to produce the HMMWV (Humvee). The company goes on to manufacture 250,000 vehicles, with Amerline supporting production of 120 Tactical vehicles a day at peak production.
1985
GTE Airfone gives contract to Amerline Enterprises to supply assemblies placing Airfones in U.S. aircraft. Working in conjunction with FAA specifications, GTE becomes Amerline's first million-dollar customer.
2005
As business grows, Amerline moves from a 10,000 square-foot facility in Cicero, IL, to a 30,000 square-foot facility in Schiller Park, IL.
2009
Philips Healthcare — a provider of generators, tubes, and other healthcare components, and located in Aurora, IL — names Amerline "Supplier of the Year", presented for excellence in service.
2009
Oshkosh Defense is awarded the Mine Resistant Ambush Protected (M-ATV) vehicle and the Family of Medium Tactical Vehicles (FMTV) production contracts. Amerline supplies critical Mil-Spec connectors and robust intervehicular cables to power M-ATV trailers (meeting the contractual obligation to produce 1,000 M-ATVs per month ahead of schedule), as well as critical power connectors and value-added products in support of FMTVs.
2011
Defense Logistics Agency adds Amerline to the Approved Manufacturers Part Listing (AMPL) as an approved source for Intervehicular Cable Assembly 7728814 — a robust cable that brings power from the towing vehicle to a trailer.
2013
Miller Electric selects Amerline's AEC 95234 connector series for new Sub-Arc program.
2014
Amerline's Quality Management System is registered to ISO 9001:2008 standard.
2014
Lacking a source for a critical connector for the Light Armored Vehicle (LAV) program, the U.S Army selects Amerline Enterprises to develop a VG95234 Straight Plug AEC06E14S-7S-02 (NSN# 5935-01-560-2396). The connector features a custom adapter to install an environmental heat shrink boot.
2016
Defense Logistics Agency approves Amerline for NATO Connector 11682338, making the company only one of three approved to make the NATO Jump-Start power connector. Alongside this success, Amerline responds to a market demand for more availability and shorter lead times.
2016
TACOM (United States Army Tank-automotive and Armaments Command) creates a new National Stock Number for two wiring harnesses Amerline developed for the Flyer Defense Program and supplied to General Dynamics to support U.S. Special Forces.
2018
Amerline's distribution program begins with Electroshield, located in Yellow Springs, OH.
2021
Amerline expands into supplying AEC connectors and overmolded cable assemblies for overhead sub-transmission electric power equipment. In a process audit of Amerline, G&W Electric notes the presence of excellent processes, extensive documentation, and highly knowledgeable operators, with an audit score of 99.4 out of 100. Amerline currently supplies 11,000+ power cables for this industry annually.
What our customers say…
"Amerline is very responsive to our hi-rel technical and fulfillment requirements. We required modest customization and they were able to accommodate us with a quick turn-around. "
JP Dear, Engineering Manager
J-Squared Technologies Inc.

"Amerline is top-notch, I have worked with them for over 20 years, and never ever had any issues. Prompt quotes, prompt answers to any questions. Overall just everything about doing business with Amerline has been with ease and with no issues. Staff is always very helpful and truly goes out of their way with any and all help."
Maria Denardo
Cutlass Associates

"Excellent products and services, thank you for your support to UIH Shanghai."
Fuming Yu, HQ PUR Dept.
UIH Technologies LLC
"Thomas and his team are very friendly and helpful. A pleasure to have as a valid supplier."
Viki Young, Sales and Technical Manager
Servo Connectors

"From a supply chain and customer service standpoint, Amerline has set a high bar for what a manufacturer-distributor relationship should be. They truly have their act together. Throughout the organization, at all levels, they are very willing to support ElectroShield and our mutual customers. The Amerline team has been proactive and communicative during these challenging times, resulting in minimal impact to on-time delivery.
Our sales team appreciates Amerline's responsiveness to quote and product support requests. Working as a true partner, the Amerline sales and engineering teams help us answer our customer needs. They have been directly involved with several of our customers' projects to assist in planning and specifying the right product for their application."
Lori Riley, Supply Chain Lead/ISO Lead Auditor
Electroshield, Inc.

"We have been Amerline's distributor in Brazil since 2016.
During this time we have had a significant sales increase of circular military connectors, and we must thank the Amerline team for the great support during these years.
The outstanding quality of their connectors added to the great service level, quick responses and effective communication provided by AMERLINE are key to the success we had up to now and we hope to keep this successful partnership for many years."
André Lichtenstein, Managing Director
LCI Brasil
"Amerline Enterprises has consistently supplied the highest quality electrical connectors and cable assemblies to my business for over 13 years. But Amerline Enterprises is more than just a supplier. They provide services that help grow my business by offering engineering and design solutions on custom products. Orders are consistently processed and delivered on time and Amerline Enterprises staff are always helpful and a pleasure to work with. My business would not have expanded into the Mil-Spec connector line without Amerline Enterprises' products and expertise."
Erik von Seggern, Owner
Erik's Military and Industrial Surplus

The Proof Is In Our Certifications
We're confident in the quality of our connector products — and with industry certifications to back up this quality, our customers can be, too. As an ISO 9001:2015 certified manufacturer, our quality management system is supported by best practices to efficiently and consistently meet our customers' needs and ensure the highest levels of satisfaction.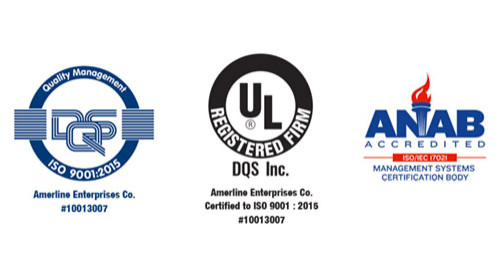 A Message from Our Management
At Amerline, we understand business success is all about relationships. Over the course of 40+ years, we've expanded our product offerings to give customers the support and strategic advantages to grow and increase their market share. This growth is made possible by our culture, where we see ourselves as a family working together to deliver meaningful solutions, providing customers with the products they need but have trouble sourcing.
Our products play an essential role in serving the defense of freedom, as well as providing equipment that powers our infrastructure and facilitates food and water needs critical to quality of life. To this end, we have a responsibility to supply the highest-quality products to the industries we serve, and we continually strive to improve our word-class quality, delivery, and service to align with this obligation.
Thomas Krepelka
Thomas Krepelka - VP of Sales