Find Equivalents for Amphenol Circular Connectors Fast
Amphenol circular connectors are used to power vehicle systems, passenger jets, galley systems, military communications and other mission-critical applications. When the time comes to replace these connectors, like any others, it needs to happen fast; otherwise, businesses are at risk of delays, safety hazards, financial losses and more.
Did you know Amerline offers equivalents for Amphenol circular connectors? Not only that, but we'll help you find and get what you need fast. How? Through an easy-to-use search tool and expedited delivery options. (Alternatively, you can always contact us directly for technical support in finding equivalents for Amphenol circular connectors.)
A Convenient Way to Search for Amphenol Equivalents
Over the years, we've fielded many requests from prospects looking for equivalents to their current circular connectors to enable fast replacements. To support these needs, we've added a competitor part number search tool to our website. That way, prospects can find Amerline's equivalents to their connectors without having to pick up the phone.

Let's say you're looking for a replacement for the Amphenol 97-3101 cable connecting plug. When you type that part number into the competitor search tool, you'll find its equivalent with just one click: Amerline's AEC 3101 Cable Connecting Plug.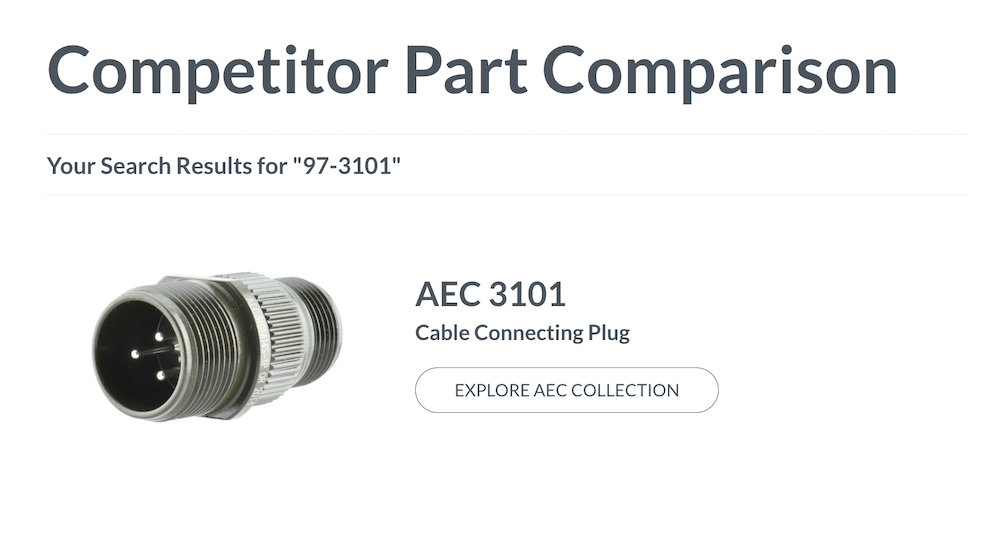 Once you've identified your Amphenol circular connector equivalent, the Amerline team can work with you to get what you need in less time.
Expedited Delivery Options to Reduce Downtime
While our expedited delivery times help keep product launches on track, they also help support more immediate needs in the field. Our expedited delivery options can get you Amphenol equivalent circular connectors in 2-4 weeks.
We pair these initial quick delivery times with the benefit of inventory stocking programs. Based on forecasted demand, we can ensure you have the parts you need in the future without sitting on excess inventory. This enables faster turnaround times at less cost.
From a cost standpoint, it's worth noting that our efficiency allows us to provide pricing that is anywhere from 20-40% less than the competition. As you improve profit margins, you'll have a more sustainable infrastructure that can weather supply chain disruptions.
Look No Further for Your Circular Connector Needs
If you're looking for an Amphenol circular connector equivalent, you can rely on Amerline to help you find what you need fast and have it delivered to you quickly. That's the Amerline advantage: the high-quality products you need, backed by the service you deserve.
Use our competitor part number search tool to find what you need — and once you do, contact us for order details.