Find Equivalents for ITT Cannon Circular Connectors Fast
As an industry leader in highly-engineered circular connectors, ITT Cannon offers a diverse line of products built for industry and heavy vehicle applications.
If you're using ITT Cannon circular connectors in your applications now, we want you to know Amerline offers product equivalents. When the time comes for a replacement, you can use our competitor part number search tool to quickly find your product equivalent — or, of course, call us if that's more convenient. Then, you can take advantage of our expedited delivery times to get products shipped to you fast. It's speed enabled at every step.
Step 1: Finding Your ITT Cannon Circular Connector Equivalent
At Amerline, we pride ourselves on delivering exceptional service. So while our support team is readily available to help you find ITT Cannon circular connector equivalents, we give people a way to easily find this information from the convenience of our website. In the top section of our website, you'll find a competitor part number search tool.

To illustrate how it works, let's use this example: you're in need of a replacement for the ITT Cannon KPT06 straight plug. When you type "KPT06" in the search tool, you'll find Amerline's equivalent: AEC 3116 Straight Plug. (As an added benefit, you'll notice that we can overmold this straight plug in cases where it's beneficial to have additional strain relief and even more environmentally protected cables.)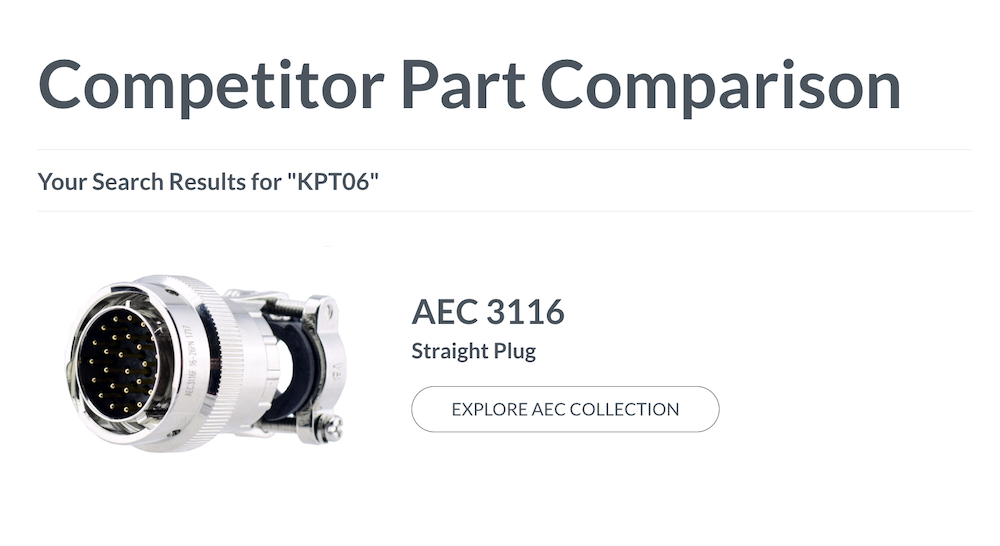 Step 2: Amerline Works With You to Enable Fast Delivery Times
Part of that exceptional service we mentioned above relates back to lead times. With expedited delivery options available, we can have equivalents to ITT Cannon circular connectors delivered to you in 2-4 weeks.
Since we brought up our overmolding services, we thought it would be worthwhile to note that this customization work is performed right here at our headquarters in Schiller Park, IL. It's the same place where our connector solutions are tested, inspected and shipped. This saves the extra costs associated with overseas overmolding work, while also accelerating lead times.
When You Need Replacements, Amerline Is Here to Help
Speed is key when it comes to replacing circular connectors critical to your operations. That's why at Amerline, we not only help you find what you need fast but also ensure you have products in hand fast too. It's the service that you can count on to support operational efficiency and minimize costly downtime.
Use our competitor part number search tool to find the ITT Cannon circular connector equivalents you need — and once you do, contact us for order details.